Choose the Best Dumpster Rental Lincoln NE Has to Offer With Nebraska Waste Solutions
If you're looking for the dumpster rental Lincoln NE trusts most for projects of all scopes and sizes, look no further than the reliable and responsive team at Nebraska Waste Solutions! Our locally owned and operated company proudly serves Lincoln, Nebraska, and the surrounding communities of Lancaster County by offering premium dumpster containers in assorted sizes and convenient booking options for any waste-related task. Whether you're clearing storm debris from your yard or demolishing a building, our team of experts and powerful bins are ready to help you tackle your project with ease.

For the dumpster rental Lincoln NE relies on year-round, choose our people-focused company! As a fully licensed and insured local business, we're dedicated to upholding the highest safety standards possible while providing timely deliveries, unbeatable customer service, and thoughtful support to our customers. Our local enterprise is committed to helping to keep our city a clean and delightful place to be with cost-effective and convenient solutions to all of your short or long-term waste removal efforts.

We make it easy to book a dumpster rental Lincoln NE can depend on using our modern online booking system. Check out our high-quality dumpster options, choose the best roll-off to fit your needs, and conveniently arrange delivery with just a few simple clicks. No matter the scale or intensity of your task at hand, we're there to help you see it through. Book online or give us a call at (402) 309-5040 to work with the best roll off dumpsters Lincoln NE has to offer for all of your waste management needs!

We Take Just About Everything
Some examples of the junk we haul away include
Garbage Removal

Mattress Disposal

Foreclosure Clean Outs
Construction Waste Removal

Yard Waste Removal

Trash Removal
Furniture Removal

Hot Tub Disposal

Storage Unit Clean Out
Dependable Dumpster Lincoln NE Uses for All Projects
Book the dumpster Lincoln NE residents, contractors, business owners, and roofers count on for all residential and commercial projects with Nebraska Waste Solutions! Our locally-owned company provides the heavy-duty roll-off containers needed to get rid of clutter in your garage or attic, throw out old furniture and appliances, install a new roof, renovate your home, or haul away waste from your construction project. There's no project too big or small for our industrial-strength dumpster bins and experienced team of helpful waste disposal experts.

When you book the dumpster Lincoln NE chooses first, you can trust that your waste will be discarded in a way that is ethical and environmentally friendly. Our company strives for sustainable excellence by partnering with the Lincoln Landfill to ensure that your waste is disposed of in compliance with city, county, and state regulations. Whether you're in need of reliable waste disposal services for a roofing or demolition job, a home or landscaping project, a commercial setting, or an apartment or retirement complex, our containers are ready to master the mess. Give us a call or book online today to schedule the Lincoln NE dumpster rental that will help you get the job done right the first time around!

Most Reliable Residential Dumpster Rentals in Lincoln NE
Our driveway-friendly, easy-to-load dumpster rentals in Lincoln NE are ideal for estate sales, home improvements, hoarding situations, driveway repairs, shed demolitions, garage cleanouts, flooring removal, single-room renovations, and much more! Our excellent bins provide a safe, effective, and orderly method to dispose of any small furniture, mattresses, garbage, broken appliances, and any other junk or materials that are getting in your way. Whether you need to clean up or clean out, make sure your residential project is a breeze by booking the most dependable 10 yard dumpster rental Lincoln NE can provide online today!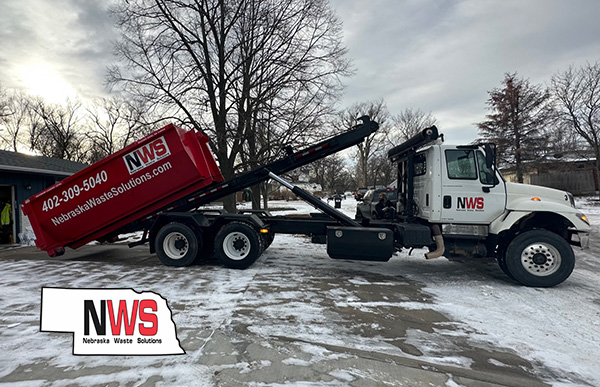 Dumpster Rental Lincoln Nebraska Homeowners Count On For Yard Projects
Book the dumpster rental Lincoln Nebraska chooses for all yard projects from our reliable and reasonably priced selections. Our unfailing bins are the perfect, tried-and-true way to handle all of your outdoor trash needs. Easily clean up after a storm, clear out brush and debris, renovate your patio, deck, or driveway, toss out your outdated equipment, or design the landscape of your dreams with the 12 yard dumpster rental Lincoln NE trusts most. Browse our versatile, driveway-friendly options online and schedule a delivery today to let us handle your yard and garden waste needs with ease.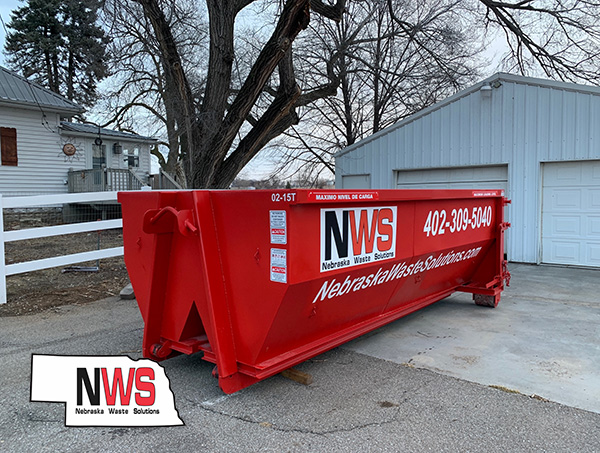 Sturdy Lincoln, NE Dumpster Rentals Contractors Rely On
For the Lincoln NE roll off trash can roofers depend on most, book with our team of communicative and attention-oriented waste disposal experts! Our well-built bins feature convenient open-top designs and are tough enough to accommodate any clay, metal, or slate shingles you need to dispose of. Our durable scrap metal roll off containers Lincoln, NE roofing professionals trust offer a safe and affordable approach to keeping your worksite free of any nails, steel, tarps, rubber, and other roofing waste while you perform your trade. Check out our variety of sturdy bins online or give us a call to tackle your roofing task with roll off prices Lincoln, NE craftsmen can feel confident about investing in!
Commercial Trash Dumpster Lincoln NE Business Owners Choose First
Book the trash dumpster Lincoln NE businesses count on year-round from Nebraska Waste Solutions! Our local company is here to manage any ongoing waste and trash disposal needs of commercial enterprises located throughout Lancaster County, such as hotels, apartment complexes, assisted living facilities, warehouses, restaurants, and more. Allow our unfailing dumpsters, timely deliveries, and best-in-class customer service to help you keep your establishment clean for customers, employees, tenants, and guests. With flexible delivery options and unparalleled customer support, we're the go-to choice for property managers, business owners, and individuals looking for short or long-term waste disposal help. Give us a call or book online to reserve the Lincoln NE rollaway dumpster you can depend on today!
Why You Should Choose Us for the Roll Off Dumpster Lincoln NE Trusts
For the roll off dumpster Lincoln, NE chooses first for all projects, book with our locally owned and operated company! As a community-driven business, our mission is to help keep our city sanitary and pleasant for all residents and visitors.


Our unmatched customer support service, professionalism, and durable containers at affordable prices have earned us frequent positive reviews, making our small business the local trusted source for waste management needs among residents, business owners, and contractors throughout Lancaster County.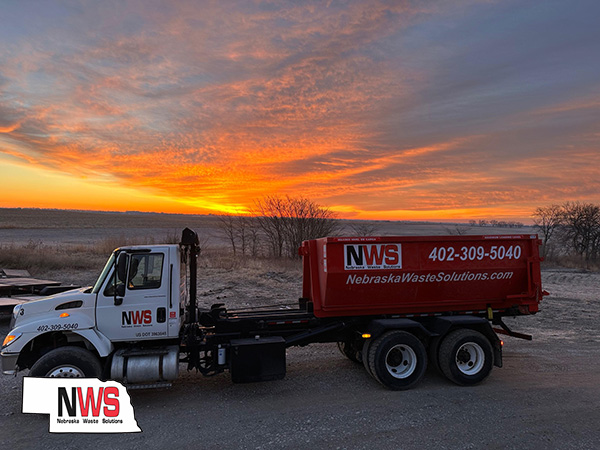 Nebraska Waste Solutions provides the most trusted roll off dumpster Lincoln, NE has to offer. Our bins are sourced exclusively from the industry's leading reputable manufacturers, featuring top-quality designs to provide safety and ease for any waste disposal task. Our bins are driveway-friendly and easy to load, allowing you to book with confidence. We clean and sanitize each container before and after each use, so our customers receive a bin they can rely on in the best possible condition. Rent a roll off Lincoln, NE uses for projects of any size, and book online with us today.
How to Book a Roll Off Lincoln NE Businesses and Homeowners Depend On
Easily book the roll off Lincoln NE trusts most with our trailblazing online scheduling system. Begin by clicking any of the red "Book Now" buttons displayed throughout our website. Next, click the red "Book Now" button below the "Dumpsters" or "Contractor Dumpsters" categories to view our versatile, industry-grade options and more information about each container. After you've found the right bin for your job, click the red "View Item" button and add it to your cart. Finally, select your service type (Homeowner or Contractor/Commercial Use), choose your delivery date from our online calendar, and provide your delivery information. After entering your payment information using any major credit card into our secure system, you'll receive a confirmation email, and our professionals will reach out to discuss a delivery window that works best for your schedule.

Customers can also rent the roll off Lincoln NE values most by calling our staff at (402) 309-5040 or using the "Contact Us" buttons at the top and bottom of our webpage to send our team a message directly. Book the roll off dumpsters Lincoln NE depends on with the knowledgeable and friendly team at Nebraska Waste Solutions today!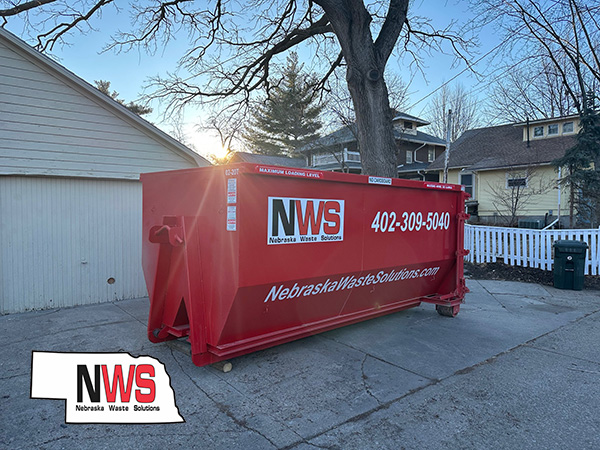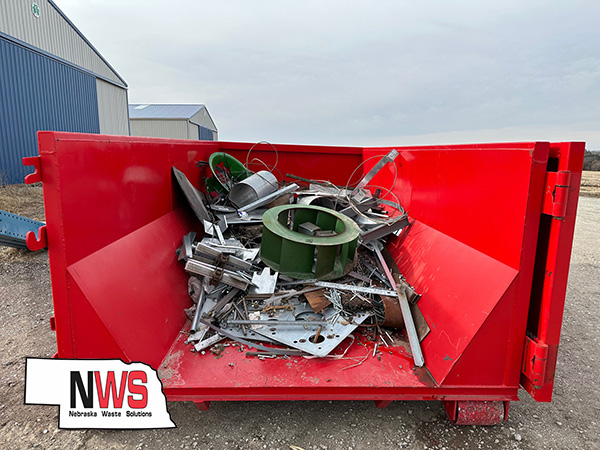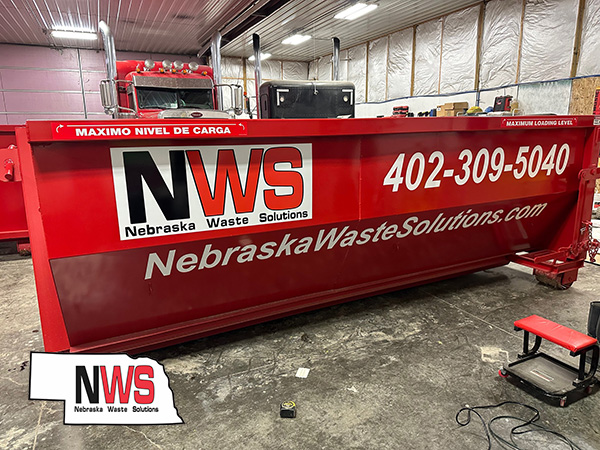 Suitable Sizes and Prices for the Roll Off Lincoln, NE Trusts
Book the best roll off Lincoln, NE has to offer at our local company from our fleet of high-quality options! Our variety of exceptional bins at bargain prices takes the challenge out of finding a dumpster that will suit your needs without hurting your wallet. Our 15-yard dumpster is great for home remodeling, downsizing, seasonal cleaning projects, and more. This 14' long by 8' wide by 4.5' high bin is priced at $395 for a 7-day rental period with three tons of waste disposal included in the base price.

For larger projects like deck removals or extensive construction or demolition cleanups, our 20-yard dumpster will do the trick. For $465 and a 7-day rental, this 14' long by 8' wide by 6' high receptacle is sure to handle any materials and junk you can throw in it! The base price includes the removal of four tons of waste, so if you're searching for the most competitively-priced 20 yard dumpster rental Lincoln NE has to offer, we're confident this is the best choice.

For contracting jobs big and small, our 15-yard and 20-yard contractor dumpsters are available for $200 and up to a 30-day rental period. If you need a trailer dumpster, our 16' long by 8' wide by 3' high 15-yard contractor dumpster trailers are available for $795 and have a rental time of up to seven days.

All of our rentals come with the option to extend the rental time and tonnage for budget-friendly fees. Call or book online today for the Lincoln NE roll off trash can prices you can be happy about!

Delivering the Best Roll Off Dumpster Rental Lincoln NE Can Provide to Surrounding Areas
Nebraska Waste Solutions gladly delivers the most reliable roll off dumpster rental Lincoln NE has to offer throughout Lancaster County, including the 68336, 68430, 68502, 68503, 68504, 68505, 68506, 68507, 68508, 68510, 68512, 68514, 68516, 68517, 68520, 68521, 68522, 68523, 68524, 68526, 68528, and 68531 zip codes. Our premium bins are frequently seen in the Roca, Waverly, Saltillo, Clatonia, Lincoln, Eagle, Centerville, Crete, Palmyra, Martell, Adams, Princeton, Air Park, Sprague, Prairie Home, Hickman, Emerald, Holland, Denton, Rokeby, Havelock, Cheney, Highland, Firth, State House, Cortland, Bennet, Walton, University Place, Panama, Bethany, and Hallam communities, and we're happy to provide deliveries to neighborhoods outside of our service area for low-cost fees.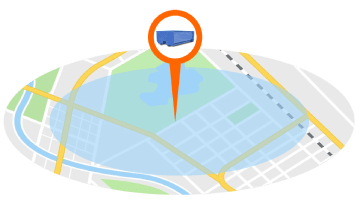 By supplying the roll off dumpster rental Lincoln NE can rely on, we've built long-standing relationships with our neighborhood school systems, including the Lincoln Public Schools and the University of Nebraska, to provide dependable waste management services to keep campuses, offices, government offices, and commercial spaces clean. Whether residents or tourists are participating in family learning at Lincoln's Children's Museum, watching their favorite team play at the Memorial Stadium, enjoying the outdoors in Holmes Lake Park, or appreciating the beauty of Sunken Gardens, our local business is proud to be involved in keeping our community a waste-free and charming place to visit and experience. Call or book online to rent the Lincoln NE trash dumpster that won't disappoint!
View Service Area
FAQs About the Rolloff Dumpster Lincoln NE Depends On
You've got questions about the rolloff dumpster Lincoln NE trusts most, and we've got answers! Look at the list of our most frequently asked questions below, and don't hesitate to reach out to our team if you need any additional information. We're confident we can provide the best open top roll-off container to rent, Lincoln, NC has to offer.
Q.
What items are not permitted in the dumpster?
A.
To comply with local regulations, we ask that you do not dispose of tires, pressurized containers, hazardous materials, poisonous chemicals, or electronics using our bins. If you need more information, please give us a call, and we can help sort out your specific waste removal needs. We offer the highest-quality selections for trash dumpster Lincoln NE locations, supplied by industry-leading manufacturers so that your waste is expertly contained and hauled away with ease.

Q.
What if my project takes longer than the included rental time?
A.
No problem! Our dumpster rental times can be extended for $25 per day and our contractor trailers for $125 per additional day. We offer flexible scheduling and the best roll off dumpster cost Lincoln NE can provide so that you can complete your project on time and within budget.

Q.
How do I schedule a delivery?
A.
When you're ready to rent a dumpster Lincoln NE counts on, we make the process as smooth and stress-free as possible. Conveniently book the most reliable rolloff dumpster Lincoln NE can offer online, or by calling our staff to schedule your rental over the phone at (402) 309-5040.
Q.
How much does it cost to rent a roll-off?
A.
Depending on the size of the container, the amount of waste being hauled, and the rental period, our prices vary. We understand many people are wondering how much is a roll off dumpster rental Lincoln NE can count on, which is why we offer a transparent pricing guide through our online booking system. You can see exactly how much a specific container rents for, as well as any potential add-ons for extra days or weight.